1872
The story of Vocalzone begins in 1872, with the birth of our Founder and Inventor of Vocalzone Throat Pastilles William Lloyd.
He was born at the Mansel Arms in Carmarthen, Wales to Innkeepers Thomas and Elizabeth Lloyd. He was the fifth of six children born to the family.
1873
The Great Italian Tenor, Enrico Caruso is born in Via San Giovanello, Naples to Anna and Marcellino Caruso.
He was born into a working family, with Caruso Snr. working as a tough mechanic and foreman in a Naples Factory.
Little was anyone to know how his and William Lloyds paths were to cross in the future and what would become from one of the unlikeliest of friendships.
1896
Enrico Caruso makes his operatic debut at Teatro Nuovo in Naples. His debut isn't well received, with his unusual vocal combination of Tenor & Baritone being unheard of at the time.
Following the performance, Caruso announces that he will never sing in Naples again, and that he would only return to "see my mother and eat vermicelli alle vongole".
1898
William Lloyd passes the Fellow of the Royal College of Surgeons exams. Having already built a reputation of having a healthy disrespect for authority, Lloyd refuses to pay the registration fee on a matter of principal.
A year later, he also successfully passes the Scottish Triple medical examination.
1900
Lloyd works as a house surgeon at the Throat Hospital and Senior Clinical Assistant at the Ear Nose and Throat department of the London Hospital. He was a keen sportsman, playing rugby for both the London Hospital and even being a reserves player for the Wales National squad. His love for sports continued for a further 40 years as a member of the National Sporting Club.
1902
Caruso's 'Vesti la Giubba' is the first record to sell over a million copies; a record recognised by the Guinness World Book of Records.
1903
Enrico Caruso makes his debut at his spiritual home, The New York Opera.
It was this performance that began an association with the opera that would last until the stars death some 20 years later.
1907
William Lloyd and Enrico Caruso's paths cross for the first time. Caruso was known for being a heavy smoker. It was when Caruso was performing at Covent Garden that a voice problem in the Tenor would bring the two together.
Lloyd was tasked with formulating a medicine to aid Caruso and soon after, Vocalzone was born.
The two became great friends, and Lloyd would continue to travel around the world with Caruso as his personal physician.
1912
Vocalzone is made in Pastille form for the first time.
It is marketed as "The Throat Pastille created for Just one Man – The Great Caruso".
It is received exceptionally in the market, and will continue to grow in popularity to this current day.
1914
As a proud Welshman, William Lloyd hosts a charity fundraiser matinee performance at the Alhambra Theater (now known as the iconic Odeon Theatre in Leicester Square).
By this point, Lloyd himself has built great repertoire within the operatic, performance and political spheres as a result of his successful formula.
One of the many high profile attendees to join him at this event was to be future Prime Minister David Lloyd George. The fundraiser is an emphatic success, raising a then staggering £8000 for London Welsh Troops.
1921
The Great Italian Tenor Caruso dies of a mysterious illness, suspected to be peritonitis – which is an inflammation of the thin layer of tissue that lines the abdomen.
The great talent died at the age of 48, leaving a young family behind. Due to his global success, the King of Italy opened the Royal Basilica of the Church of San Francisco for Caruso's funeral, which thousands of people flocked to attend.
1925
Lloyd is struck off the register for a charge of indirect advertising. This followed the appearance in the Daily Mail of an article by a patient who was also a journalist.
William Lloyd was not mentioned by name and the action by the General Medical Council was questioned in parliament. David Lloyd George questioned the process and lack of procedural fairness in his treatment.
Questions were asked in the House and the GMC was referred to as "a jumped up trade union that needed to be brought to heel". Unsurprisingly his name was restored to the register shortly afterwards.
1930
Vocalzone has become a nationally sought after pastille, with most chemists across the UK stocking the product.
It was at this point that William Lloyd, and his Chemist brother Walter Lloyd stepped up the production of Vocalzone Throat Pastilles and increased capacity at their Carmarthen factory.
This was on the site of Walter Lloyd and Sons chemist which has been trading from the 1850's to the present day.
1931
A keen author, Lloyd released a number of articles throughout his life.
His most notable piece of work 'Hay Fever and Hay Asthma' goes into its third edition print run in this year.
1940
William Lloyd's home at Brook Street is destroyed by the Blitz. Lloyd then takes the decision to move his family to Harrow on the Hill.
This was around the time Winston Churchill made his first speech as Prime Minister.
It is rumoured that Winston Churchill was one of the many politicians who also used Vocalzone, though this is something we have been yet to be able to verify.
1948
On the 11th June, our Founder William Lloyd passes away peacefully at his home in Harrow on the Hill. He was 73 years old.
Lloyd would go on to be remembered as a kind individualist, who had a forceful personality. Lloyd was one of the lucky few of his time that had the opportunity to travel the world, though it is said that he was never happier than when he was talking about his native Wales.
Control of the Vocalzone Company is handed over to Lloyd's nieces and nephews.
1955
After an association spanning over 50 years, the Lloyd family take the difficult decision to sell Vocalzone.
Production was at an all time high, and manufacturing is transferred over under licence to Ernest Jackson in Devon.
The company would continue to manufacture the throat pastille to the identical formula made for Caruso.
1962
Vocalzone Throat Pastilles has now been on general sale in the UK market for 50 years.
It was around this time that Sir Tom Jones was first introduced to Vocalzone Throat Pastilles, which were still being marketed with the slogan; 'Made for One Man – Caruso'.
Other world renowned musicians of the era including Frank Sinatra and Gregory Peck were also using Vocalzone at this time, as revealed by the late Peck in an interview prior to his death.
1965 - 70
With an increase of new medical products entering the market because of multiple advances in technology, the MHRA reviews the licences for a number of medical products.
Whilst the majority of throat lozenges and pastilles go on to drop their licence; Vocalzone retain a medical licence until December 2017; dropping their licence due to the increase in global demand for the products.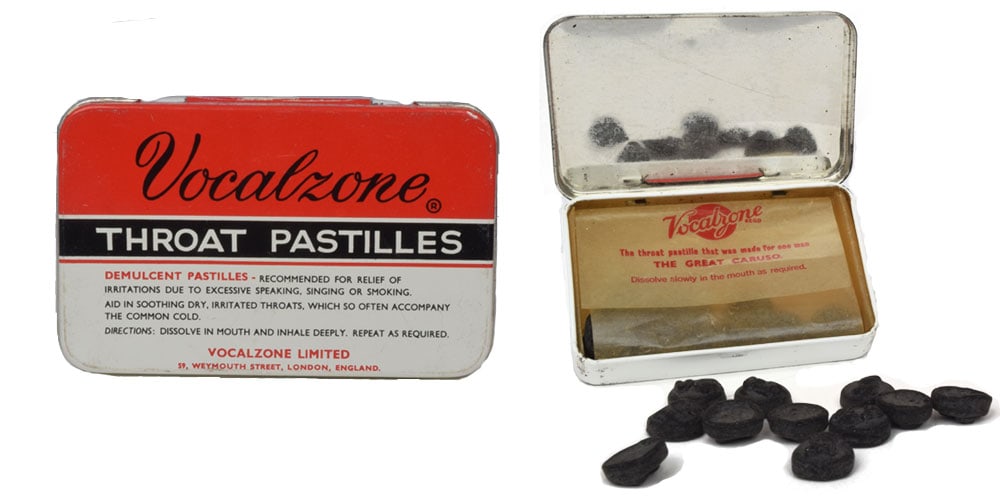 1987
The National Academy of Recording Arts and Sciences awards Enrico Caruso with a posthumous Grammy Lifetime Achievement Award.
1993
Ian Ponsford, the founder of the company acquires Vocalzone Throat Pastilles for his then employers Kestrel HealthCare Limited.
The pastilles would continue to be manufactured at the Ernest Jackson factory, and nearly 90 years on, the formula is still identical to the very first batch of pastilles first formulated in 1912.
2001
Having acquired a wealth of knowledge over 30 years of working in the pharmaceutical industry, Ian takes the leap and sets up his own business.
His love for Vocalzone is still strong, and upon setting up his business acquires Vocalzone Throat Pastilles from his previous employers.
The product would continue to live within the Ponsford family until the present day. Upon acquiring Vocalzone, Ian goes ahead and sets up its very first website.
2010
Vocalzone unveils its current iteration of branding. It has maintained its strong reputation amongst voice professionals and continues to be stocked and in demand around most pharmacies across the UK.
The product is now introduced into music stores for the first time.
2012
Vocalzone is 100 years old!
To commemorate the occasion, and as a result of increasing demand, pocket tins in the style of the products iconic branding are introduced for sale on the Vocalzone website.
2015
Kestrel Medical make a very small change to the formula to make Vocalzone suitable for Vegetarians and Vegans.
Whilst these are the first changes to the formula in over 100 years, the change is unnoticeable and the formula which was made for the great Caruso remains largely untouched.
Export has now become a big part of the Vocalzone story
2017
Vocalzone experiments with its first herbal tea, Myrrh & Mint releasing it as a limited edition product. Responding to extraordinary demand, the tea is permanently added to Vocalzone's product offering.
Alongside a new website, Vocalzone begins offering a subscription for its products. This service allows regular users of its pastilles to save money and time with a more convenient way of shopping.
2018
It had long been an ambition of the Vocalzone team to launch alternative flavours to the acquired taste of its Original pastilles. This year the dream is realised when it launches Honey & Lemon and Blackcurrant Sugar Free pastilles.
2019
Recognising a gap in the market for further quality throat care focused herbal teas, Vocalzone launches two new flavours; Red, Sage & Fennel and Lemon, Ginger & Manuka Leaf.
The complete Vocalzone range of pastilles and teas is registered with independent organisation the Vegan Society as a collection of Vegan products.